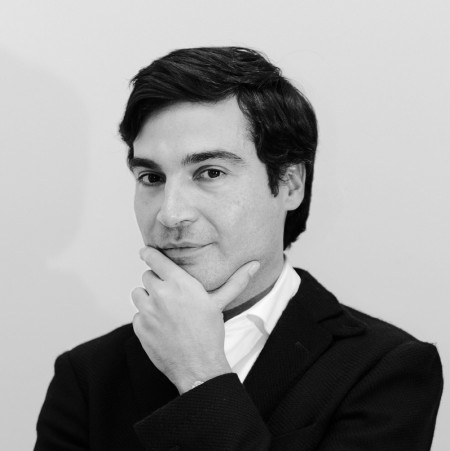 Borja Peña
Borja Peña / Founder & Partner Architect
He studied at the Superior Technical School of Architecture of Madrid (ETSAM) and the Technische Universität in Darmstadt, between 1992 and 2000. He subsequently concluded his doctoral studies in the Architectural Projects Department at the ETSAM.
He worked as an assistant professor of Architectural Projects at the ETSAM from 2001 to 2004 and has also been a guest professor at the Universidad Camilo José Cela and the Universidad San Pablo CEU in Madrid.
The extensive training and experience that Borja has accumulated over years of collaboration with prestigious architectural firms, such as that of Rafael Moneo, has enabled him to establish a highly professional practice, having received numerous national and international awards for his professional endeavours, notably including the recent 2012-2014 VETECO ASEFAVE Award for Best Renovation for the work on the covered equestrian arena in Madrid. Furthermore, in 2012, BETA.Ø was named one of the most interesting emerging practices in Madrid by the ARQUIA/PRÓXIMA cultural programme, sponsored by the Fundación Caja de Arquitectos.
His projects have been featured in several specialised publications, books and architecture blogs.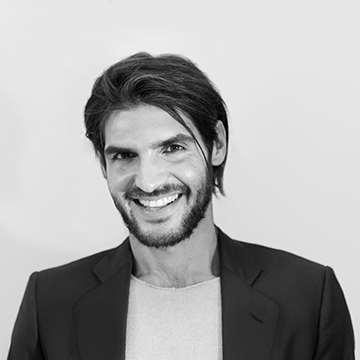 Xabier Ortega
Xabier Ortega / Partner Architect
He studied at the Superior Technical School of Architecture of University of Navarra (ETSAUN) from 2006 to 2012, where he obtained Merit Award on his Thesis Project.
After working with various architecture firms and participating in numerous design collaborations in the areas of fashion and visual arts, he joined BETA.Ø in 2013, becoming a partner in 2015.

Ernesto Sierra, partner until February 2022.
Fleur Agier, Puy Alonso Martínez-Campos, Gaizka Altuna, Carla Arranz Sobrini, Marta Basaglia, Andreas Benéitez, Carmen Cabrera, Almudena Cano Piñeiro, María Carnero, Clara Castañeda, Alicia Cibrián, Pablo Dacal, Luis Escudero Escauriaza, Laura Fernández, Miguel Figueira, María García, Alia García Germán, Cristina Gómez Abecia, María González de la Obra, Julio Gótor Valcárcel, Alberto Hueso, Álvaro Hueso, Virginia Laínez, Cristina Lorenzo, Inés Lozano Martín, Isabel Moneo Lara, Manuel Montalvo, Ignacio Muinelo, Javier Muñoz Posse, David Parra, Adrián Paterna, Lucía Pérez, Amaya Pérez, Pablo Rodríguez, Alberto Rubial, Beatriz Ruiz de Hoyos, Cristina Sánchez, Silvia Sordi, Pablo Toribio, Nagore Urrutia del Campo, Regina Valle, Genny Valleta, Pilar Vidal and Mar Videira.